I have no idea why these pants feel like dancing pants, but they just do. In the bleak midwinter, I always welcome brights, neons, and anything to liven up the overcast days (as you could see from my last post). After all, sometimes we have to carry our own sunshine with us, right? These are my dancing pants- in all brights and neon. As Hal Borland said, "No winter lasts forever; no spring skips its turn." I'm still waiting patiently for the fresh blooms and sun of spring, but in the meantime, I'll be wearing the blooms instead.
Sweater: J Crew (gift)
Denim top: Gap ($16 marked down from $60)
Necklace: gift
Pants: Ann Taylor ($11 marked down from $80)
Shoes: Nine West via Salvation Army ($12, retail for $100)
Fashion Huntress tips:
1) Today I pushed color mixing a little further than the last post, and picked a color palette in all different shades. Because these pants are so bright and "summer/spring," I paired them with a darker, heavy winter sweater. You can see how I last featured these pants in summer: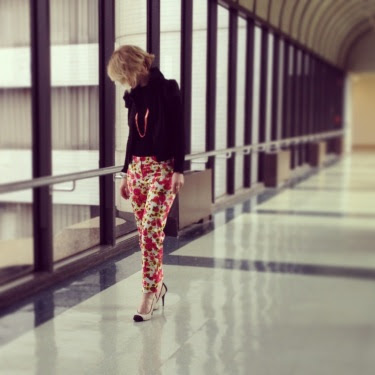 As always, you know how I feel about wearing clothes all year round! With a little layering, most pieces can be worn year round.
2) Saks Off Fifth is having a great shoe sale right now. Most shoes, even designer labels, were marked to $30-$150. As always, this is a sale that I wanted to shop in person versus online, in order to get a feel and fit for the shoes. However, I've also shopped online via their website and they do have a great return policy. You can check out the sale here: http://www.saksoff5th.com/ Also keep in mind that when you sign up for emails, you will receive coupons and extra discounts. 
Anyone else wearing neon and brights this winter? Thanks so much for stopping by, readers! I appreciate it so very much, as always!