There are some themes that I really seem to cycle through frequently (does anyone else remember that phase during winter when I was only wearing corduroys, Uggs, and plaid?) (I needed an intervention). In my summer attire, safari and jungle creep up, inexplicably, all the time in my wardrobe. 
Exhibit A: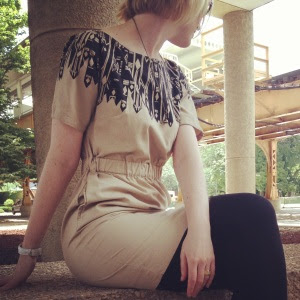 Yes. I am addicted to animal print and safari things. 
Anywho, when I bought this dress a couple of years ago, I wondered if it took the jungle theme too far…but the salesperson reassured me it didn't. I think she was right. I, did, however try to add a statement necklace to this outfit and it got really out of control. So, I stuck with a simple joyful jungle theme. I mean, why not just stick with what brings you joy, right? And at the whole outfit totaling $30, it's pure joy. I'm the Fashion Huntress, and I love animal print. …Though, if I start busting out my winter uniform again this winter (cords, Uggs, plaid), someone please help me reign it in, okay? Thanks, readers. 
Dress: Jax via Nordstrom Rack ($15 marked down from approx $140)
Cardigan: Ann Taylor Loft (borrowed)
Shoes: Calvin Klein via Nordstrom Rack ($15 marked down from approx $100)
Necklace: Tiffany and Co.
Nails: Bananappeal via Sinful Colors at Walgreens ($1.99)
Fashion Huntress tips:
1) When you're wearing animal print, I think a little goes a long way. As I mentioned, I tried to add a statement necklace to my dress and it was just too much. If you're wearing a lot of animal print (like this dress), consider toning down the rest of your outfit to balance the animal print with solid colors. I do think animal print is definitely office appropriate, and can often read as a neutral (though not with this dress!), so definitely sport your jungle/safari/animal pieces if you would like!
2) The Nordstrom Rack dress clearance rack (look for the red tags) is a great place to find dresses at around $20+. Many of the dresses are marked down to less than $100, though that is still a high price point for many people. I often look through the small, medium, and large racks to be sure I have seen most dresses on the clearance racks. Various sizes often wind up on wrong racks and many brands run small, so it is worth while to look through all of the racks. I, of course, tend to look for dresses that are the biggest bang for my buck, and in reality, it really only takes about 10-15 minutes to go through all three (small, medium, large) racks. 
Anyone else have animal print tips? Thanks so much for stopping by, readers! It's almost Friday!!